Young Students Design Your Future

Scienceworks education program
Students: 10 – 13 year olds (boys and girls)
Participating schools:
Westgarth Primary School
Contact: Ben Cunningham This email address is being protected from spambots. You need JavaScript enabled to view it.
The Lakes School
Contact: Marcus Findlay This email address is being protected from spambots. You need JavaScript enabled to view it.
St Lawrence Primary School, Derrimut
Contact: Kathy Blythe This email address is being protected from spambots. You need JavaScript enabled to view it.
Footscray City College
Contact: Michelle Sanders This email address is being protected from spambots. You need JavaScript enabled to view it.
SCHEDULE
Venue: Melbourne Convention and Exhibition Centre (Exhibition Hall concourse)
Tuesday 11 October 2016
10.30am – 2pm: Student showcases
Wednesday 12 October 2016
10.30am – 2pm: Student showcases
Thursday 13 October 2016 – OPEN TO PUBLIC DAY
10:30am - 11:30am: Student presentations, Exhibition Hall Auditorium
10.30am – 2pm: Student showcases
Friday 14 October 2016 – OPEN TO PUBLIC DAY
12:00pm – 1pm: Student showcases
Scienceworks will be running the Design Your Future program for school groups throughout 2016, in the lead up to the ITS World Congress.
This hands-on workshop includes focused time in the Think Ahead exhibition exploring themes such as future cities and smart vehicles. Students will then design intelligent transport systems to revolutionise travel in an imaginary city.
Students will continue their exploration back at school, creating modelled solutions to real life transport problems. Projects include autonomous robots, models showing the redesign of Melbourne transport, virtual worlds built in Minecraft and intelligent infrastructure built from microprocessors. Schools will also have access to support materials such as online resources and expert advice from Scienceworks education staff to help them complete their projects.
The top future transport projects will be showcased at the ITS World Congress, allowing students to present their work to their peers and experts in the field from around the world.
Scienceworks plays a vital role in creating connections between communities and the world of science, technology and engineering.
Our award winning exhibition, Think Ahead, explores innovation through time by showcasing historic collection objects and contemporary, cutting edge research, and encourages visitors to imagine solutions to future problems.
Enquiries: Jonathan Shearer, STEM Programs Coordinator
This email address is being protected from spambots. You need JavaScript enabled to view it.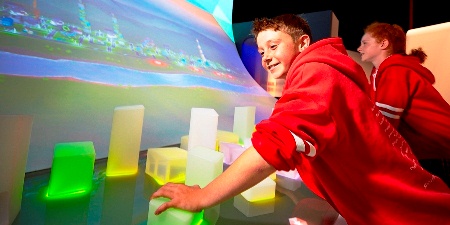 Students designing a future city in the Think Ahead exhibition. Copyright Museum Victoria



LATEST UPDATES
On demand, on-line access to the ITS 2016 recorded sessions now vailable. Click here to find out more.
Click here to view the latest media coverage for ITS World Congress 2016
Australia to host the 23rd World Congress on Intelligent Transport Systems in Melbourne from 10-14 October 2016.
Cick here to read the latest Media Releases.