Exhibition Open Hours
Monday 10 Oct, 5.30pm – 8.30pm
Tuesday 11 Oct, 8.30am – 7.00pm
Wednesday 12 Oct, 8.30am – 7.00pm
Thursday 13 Oct, 8.30am – 6.00pm
Friday 14 Oct, 8.00am – 2.00pm
Download Prospectus to reserve or book your space

The 2016 ITS World Congress will serve as a platform where a broad and varied range of commercial exhibitors, public administrations and ITS related organisations will showcase the latest advances and solutions to a cross-section of delegates coming from around the globe to exchange views and create business opportunities.
Exhibiting at the world congress provides your company with a truly valuable and unmatched experience that connects you to potential buyers, partners, investors and developers that are rooted in the ITS market.

Key Features
16,500 sqm (pillar-less) exhibition hall for trade and demonstrations
Private meeting rooms, as well as catering and networking areas.
Premium stand sizes and locations
Discounted Early Bird booking rates
An exhibitors Auditorium in the exhibition hall that can be used for special announcements, product launches, hosted debate/discussions, etc
5 different networking and business lounge areas
Free wifi
Meeting rooms and hospitality suites for hire
Sit down delegate catering areas
Dedicated zone primarily for those companies who will run demonstrations
All focussed around Melbourne's fresh food catering, with award-winning chefs live on the exhibition floor to keep attendees hydrated and well-fed

ITS Australia Members
Entitled to a flat 10% discount across all bookings. (conditions apply)
Contact ITS Australia today for corporate membership enquiries: www.its-australia.com.au

Exhibition Rates
Rates are based on unit blocks of 3m x 3m (9m2) each. Each unit is available as shell scheme booth or floor space. Should more than one unit be required, rates are multiplied by the total units required.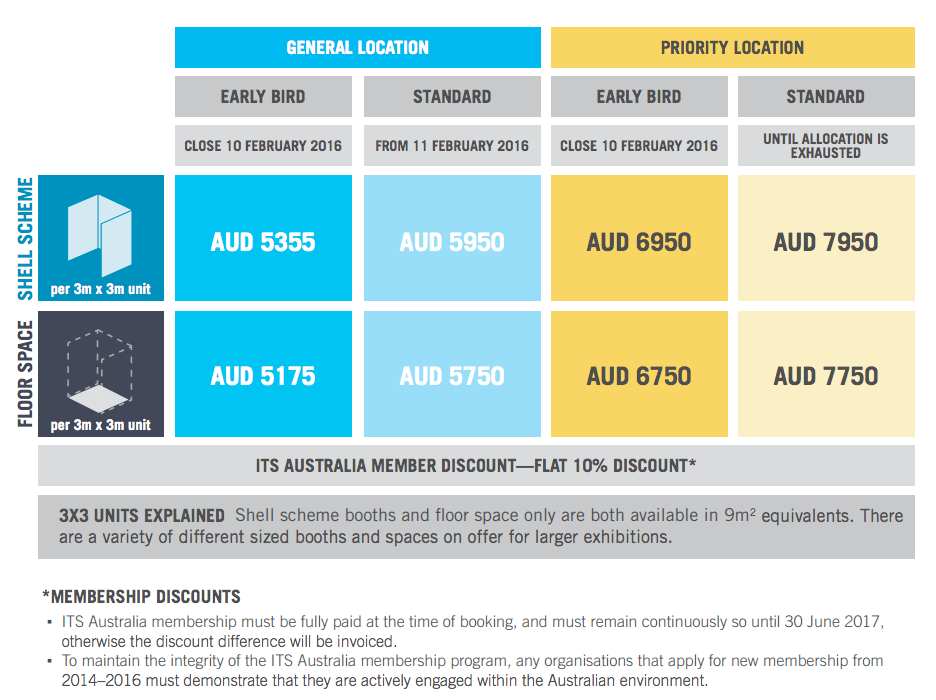 Key Opportunities Include
Meeting Room Hire (AUD 10,000)
Have your own private meeting room or office available the entire congress in the exhibition area.
Cost includes room hire only (36m2 fully carpeted), with lockable door and door signage. Furniture, power, lighting and AV requirements at additional cost (available through ExpoNet).
Auditorium for Hire (from AUD 2,000 – 10,000)
The 264-seat capacity auditorium is available for exhibitor use throughout the congress exhibition opening hours. Examples of opportunities that the auditorium could be used for include a product launch, hosted debate or panel discussion presentations. Promotion of scheduled exhibitor presentations will be made on the congress program, listing on the website, and included on the mobile app.
Take advantage of this high profile opportunity for extended branding and promotion by booking your preferred slot today—discuss availability with the congress organisers.
Booking fees are dependent on time slots (includes standard AV and stage set up) .
If you are interested in receiving more information on exhibition opportunities, please contact:
Jerome Buchanan
Sponsorship Development Manager
c/- MCI Australia
E: This email address is being protected from spambots. You need JavaScript enabled to view it.
T: +61 3 9320 8631

Regional contacts
In addition to the local sales support in Australia, local contacts are available globally to provide information and support — representing America, Asia and Europe.
AMERICA
Exhibition and Sponsorship Sales
ITS America
P: +1 202 721 4205
E:
This email address is being protected from spambots. You need JavaScript enabled to view it.
ASIA PACIFIC
Jerome Buchanan
Sponsorship Development Manager
ITS World Congress 2016 Melbourne
P: +61 3 9320 8631
E:
This email address is being protected from spambots. You need JavaScript enabled to view it.
EUROPE
Benoit Augarde
Exhibition and Sponsoring Officer
ERTICO—ITS Europe
P: +32 2 400 07 86
E:
This email address is being protected from spambots. You need JavaScript enabled to view it.
JAPAN
International Affairs
ITS Japan
P: +81 3 5777 1013
E:
This email address is being protected from spambots. You need JavaScript enabled to view it.



LATEST UPDATES
On demand, on-line access to the ITS 2016 recorded sessions now vailable. Click here to find out more.
Click here to view the latest media coverage for ITS World Congress 2016
Australia to host the 23rd World Congress on Intelligent Transport Systems in Melbourne from 10-14 October 2016.
Cick here to read the latest Media Releases.