Visit New Zealand

New Zealand's Māori culture is a vital part of Kiwi life and adds an inimitable, dynamic experience for visitors. Indulge in diverse cuisine with world-class wines in Waipara and Central Otago followed by a wander through the Cormwell Historic Precinct.
Overlook the islands beauty from Aoraki Mount Cook, New Zealand's tallest mountain or encounter whales, dolphins and fur seals in Kaikoura. Heading South will then lead you to one of the nine commercial ski fields for a magical day with breath-taking scenery.
If you're looking for adventure, you can bungy jump off Kawarau and the Auckland Harbour bridge or zip line through spectacular native forest, across rivers and canyons. Combine your ride with river tubing and twinkling glow worms to make it an unforgettable thrill journey.
Top 10 things to do in New Zealand
---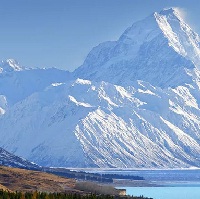 Aoraki Mount Cook National Park
Mt Cook, the tallest mountain in New Zealand, helped Sir Edmund Hillary to develop his climbing skills in preparation for the conquest of Everest.
Aoraki Mount Cook National Park is home of the highest mountains and the longest glaciers. It is alpine in the purest sense - with skyscraping peaks, glaciers and permanent snow fields, all set under a star-studded sky.
---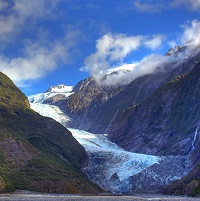 Fox Glacier and Franz Josef Glacier
Witness the puzzle of huge valleys of ice that extend well below the snowline, almost to the sea. Here the ice age is still underway.
While glaciers around the world are retreating, the Fox and Franz Josef glaciers still flow almost to sea level. The temperate climate at this low altitude means these glaciers are among the most convenient to visit in the world. Easy walks to the foot of the glaciers pass along ancient river valleys with steep sides bearing gigantic horizontal scars from when the glaciers have retreated and advanced over millennia. When you stand close to the foot of these glaciers, their sheer enormity is very humbling.
---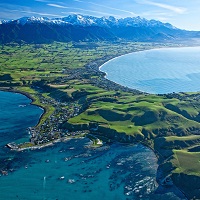 Kaikoura
The picturesque coastal town of Kaikoura is the perfect place for marine life encounters, coastal walks, and tucking into a plate of crayfish.
Kaikoura's environment is truly spectacular – the village is caught between the rugged Seaward Kaikoura Range and the Pacific Ocean. In winter the mountains are covered with snow, adding to the drama of the landscape.
Kaikoura's special talent is marine mammal encounters – whales, fur seals and dolphins live permanently in the coastal waters. Whale watching trips leave the town several times a day and the local seal colony is always entertaining. There are plenty of cafés, restaurants and shops to explore.
---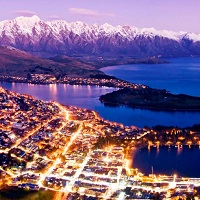 Queenstown
Queenstown is one of New Zealand's top visitor destinations and if you come to the region you'll understand why.
Captivated by the majestic beauty of the surrounding mountains and rivers, it's rumoured that gold prospectors gave this now cosmopolitan town its name. Queenstown sits on the shore of crystal clear Lake Wakatipu among dramatic alpine ranges.
World famous for its iconic scenery, friendly people, golf courses, wineries and smorgasbord of outdoor activities, you'll never be short of things to do in Queenstown.
---
Matamata
Matamata is a must see if you're a Lord of the Rings and Hobbit fan. Take a guided tour of the Hobbiton Movie Set and enjoy the town's fabulous cafes.
Two hours south of Auckland lies the lush farmland of the Hamilton - Waikato region. Famous for dairying and fine thoroughbred horses, it's easy to see why these green pastures and rolling hills were chosen to portray Hobbiton and The Shire.
Hobbit fans can visit the Hobbiton Movie Set on a guided tour; it has more than 44 unique hobbit holes, including Bag End (Bilbo's house). As you wander through the heart of the Shire, you'll get to hear the fascinating commentary about how it was all created.
---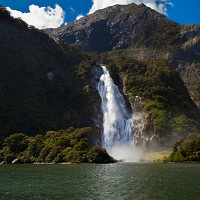 Milford Sound
Situated on the west coast of the South Island, Milford Sound is a fusion of spectacular natural features with amazing visual cues around every corner.
Described by Rudyard Kipling as the 'eighth wonder of the world', Milford Sound was carved by glaciers during the ice ages. Milford Sound is breathtaking in any weather. The fiord's cliffs rise vertically from the dark waters, mountain peaks scrape the sky and waterfalls cascade downwards, some as high as 1000 metres. When it rains in Milford Sound, and it often does, those waterfalls multiply with magnificent effect.
---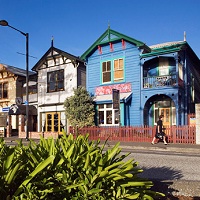 Napier
Beautifully preserved 1930s architecture is Napier's special point of difference.
A national disaster resulted in Napier becoming one of the purest Art Deco cities in the world. On the morning of February 3rd 1931 a massive earthquake - 7.9 on the Richter scale - rocked Hawke's Bay for more than three minutes. Nearly 260 lives were lost and the vast majority of buildings in the commercial centre of Napier were destroyed, either by the quake itself or the fires that followed.
Rebuilding began almost immediately, and much of it was completed in two years. New buildings reflected the architectural styles of the times - Stripped Classical, Spanish Mission and Art Deco. Local architect Louis Hay, an admirer of the great Frank Lloyd Wright, had his chance to shine. Maori motifs were employed to give the city a unique New Zealand character .
---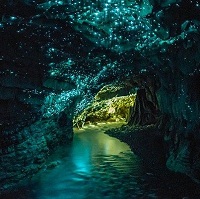 Waitomo Caves
Under the green hills of Waitomo lies a labyrinth of caves, sinkholes and underground rivers. The area's name comes from the Maori words wai (water) and tomo (hole).
The caves were carved by underground streams pushing through soft limestone over thousands of years. Many have amazing stalactites growing down from the ceiling and stalagmites growing up from the cave floor, pointy cones of layered rock formed over centuries by dripping water. The cave walls are also decorated with galaxies of native glow worms.
---
Lake Wanaka
45 kilometres long and covering 193 square kilometres, the crystal clear waters of Lake Wanaka are perfect for jetboaters, sailors and kayakers to explore.
Nestled below towering mountains, Wanaka is the most tranquilly set of the South Island lakes.
Year round activities include fishing, hiking, canyoning, climbing and skydiving. Visit the nearby towns of Queenstown, Cromwell and Alexandra, go shopping, or simply sit in a café and watch the world pass by.
One of the attractions of a stay in Lake Wanaka is that it combines the warmth of small town living with the quality and attention to detail you'd expect of an international holiday destination.
---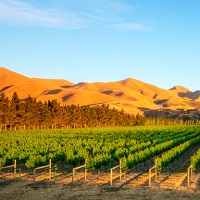 Wineries and breweries
New Zealand is home to a number of world-class wineries and breweries.
Kiwis have developed a discerning palate when it comes to wine and beer, reflected in the number of high-quality wineries and breweries throughout the country.
---



LATEST UPDATES
On demand, on-line access to the ITS 2016 recorded sessions now vailable. Click here to find out more.
Click here to view the latest media coverage for ITS World Congress 2016
Australia to host the 23rd World Congress on Intelligent Transport Systems in Melbourne from 10-14 October 2016.
Cick here to read the latest Media Releases.